Portainer Business Edition 2.13 is now live and brings with it a very important feature that our customers have been asking for. Portainer users can now provision Kubernetes environments on cloud providers directly from within Portainer. In the latest release, provisioning is supported on DigitalOcean, Linode and Civo.
For organizations using Kubernetes, Portainer's value proposition has crystalized. It removes huge amounts of operational complexity and reduces the time to value on Kubernetes investments. In practical terms, that means organizations don't need to hire rafts of experts to maintain their Kubernetes environments, instead they can empower existing teams with Portainer, which is much faster and much cheaper than almost any other alternative.
And that all makes perfect sense, other than the fact that, up until now, Portainer users have not been able to create clusters, they've only been able to manage them. This has been a frustration for some Portainer users as it meant they still needed access to experts with the skills to create clusters, which at least partially undermined the overall Portainer value proposition.
However, that's no longer a problem.
If you're a managed Kubernetes cloud customer of Digital Ocean, Linode or Civo, you can now use Portainer Business Edition to spin up clusters at will. This means that anyone with the appropriate permission / role can use a GUI-based tool they are intimately familiar with to spin up clusters at the drop of a hat without needing to use any other tooling or commands. This makes the process of cluster creation quick, reliable, safe, secure, auditable and almost fool proof!
See how easy it is to create a cluster on each of the 3 providers.
For organizations getting started on their containerization / Kubernetes journey, this removes yet another barrier to Kubernetes adoption. With a single tool that can do both creation and management it's even easier to get up and running.
Obviously these 3 providers represent a small proportion of the managed cloud market and we'll be adding more partners in 2.14 with a focus on the gorillas!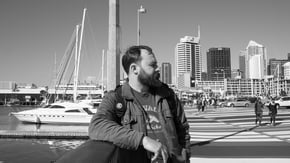 James Carppe
A former web developer, operations manager, and radio announcer, James is a big fan of technology in all forms. When not making videos and helping Portainer customers out, you'll often find him watching films and television, pretending to be a photographer, and tinkering with the latest gadgets.