Triage and Remediate
Cloud and Datacenter

Industrial IoT and Edge
Regardless of your industry, choice of orchestration platform, or computing device, find out why your application isn't working and fix it fast with the help of Portainer.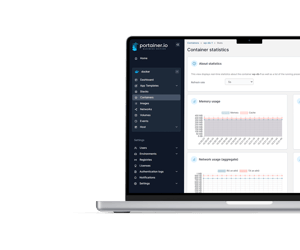 Identify the problem and get back up and running, fast.
When a deployment isn't working as expected, it can be difficult figuring out why, especially when there's a lot of moving parts involved. With Portainer, our intuitive interface helps you to get the information you need to identify the problem and resolve it as quickly and efficiently as possible, letting you get back to working order.
TOUCH
Check the configuration
From the individual container or pod to the deployment and the cluster itself, Portainer lets you quickly check and adjust your configuration.
TOUCH
Access the console
When you need to get into the container itself to make manual adjustments, open a console session directly from Portainer.
TOUCH
View service logs
With a log viewer built into Portainer, viewing a running container, service or application's logs is just a click away.
TOUCH
Tune cluster resources
Adjust the resource allocations on a container, namespace or cluster level as required through the Portainer UI.
TOUCH
Monitor container stats
Keep an eye on the vital statistics of your application deployment through our intuitive user interface.
TOUCH
Clean up your environments
Clean up your environments
Free up unused space, remove old images and volumes, and easily keep your environments running smoothly.
Here's a scenario:
You have a containerized application running on your Kubernetes environment which is experiencing issues running reliably, with the container appearing to stop functioning unexpectedly. With limited access to the server you've been unable to investigate the problem and have been resorting to redeployments whenever the container locks up.
With Portainer, you can log into the environment and view the running containers at a glance, and identify the container that is causing issues. You can view the logs of the container to search for any error messages, and can console directly into the container to check the services running inside the image.
In case the issue is resources, Portainer lets you see the resource usage on the nodes of the Kubernetes cluster as well as specify and adjust resource allocations on the containers themselves as well as the cluster, to avoid against problems like runaway memory leaks and CPU-greedy processes. You can also easily find and remove unneeded old containers, images and volumes to keep things running smoothly.
Find and fix your deployment issues
Talk to our team to find out more about how Portainer can help you with troubleshooting your applications and environment configurations.