Auckland, New Zealand, June 22, 2023 – Portainer.io announced today that 40Factory is now a value-added reseller of Portainer.
40Factory and Portainer.io have partnered to better serve machine and equipment manufacturers (OEMs) with analytics tools to improve their relevant KPIs.
40Factory is an End-to-End Industrial IoT solution provider for OEM (Machine Builders); the technology offered is an edge+cloud SaaS tool named MAT (Machine Analytics Tool). It enables OEMs around the globe to provide value-added services through deep knowledge of the working condition of their machines. MAT is configured and personalized for every customer, constantly updated, with more than 20 different modules. All modules are designed based on their experience and knowledge based upon the needs of various industrial sectors. All of the software components are containerized to optimize the product's lifecycle, with continuous updates provided directly by 40Factory, developed with an agile approach.
With 70+ customers and 1000+ connected lines around the globe, MAT requires an accompanying robust solution for edge management: MCC (MAT Control Center). With the introduction of this tool, all customers have access to a code-less environment for creating new assets in a couple of minutes; it's possible to modify the Fieldbus communication parameter, data model, tags address, description, and dashboards. With Portainer, it is possible to deploy all modifications in the field with a single click to check the status of all the edge devices remotely in real time. As a result, all of the edge devices are now effortlessly under control.
Portainer.io is the independent software provider behind Portainer, the universal container and device management platform. Portainer enables Operational Technology (OT) and IT teams to adopt and deploy containerized Industrial IoT applications in a guided, intuitive, safe-by-default experience with the ability to adjust and mature depending on the use case and needs of the organization.
With the integration in MCC of the REST-API available in Portainer, the solution is completely transparent, and users can efficiently manage applications on Docker with a few clicks. The combination of the functionality of MCC with the secure connectivity provided by Portainer allows users to quickly deploy on newly connected devices and maintain the device updated to provide a secure connection and complete compatibility.
"MAT OEM customers have hundreds of edge devices deployed all around the globe; some of our customers already sold advanced services for their machines based on performance like Pay x Efficiency or Quality guarantee. The edge management tool is at the core of the solution," says Marco Bressanello, Business Developer & Strategic Innovation Consulting Manager of 40Factory. "In the development process of MCC, we focused on the need of all our customers; the automation industry is far from standardization, and machines beside the industry have a significant difference; MAT CC is designed to provide a simple tool for the automation engineer without IT skill. Like MAT, also MCC will be supported with updates and new features to optimize the deployment and the maintenance of an exponentially growing fleet of edge devices," said Filippo Ghelfi, CTO and co-founder of 40Factory.
"When implementing IIoT projects together with machine and equipment manufacturers, it is essential to ensure scalability," says Tobias Mühlnikel, CPO & CTO of Portainer's Edge Business Unit. "Portainer is proud to have 40Factory as a strategic partner to offer a comprehensive analytics solution for the machine and equipment manufacturers based on Portainer's edge device management capabilities."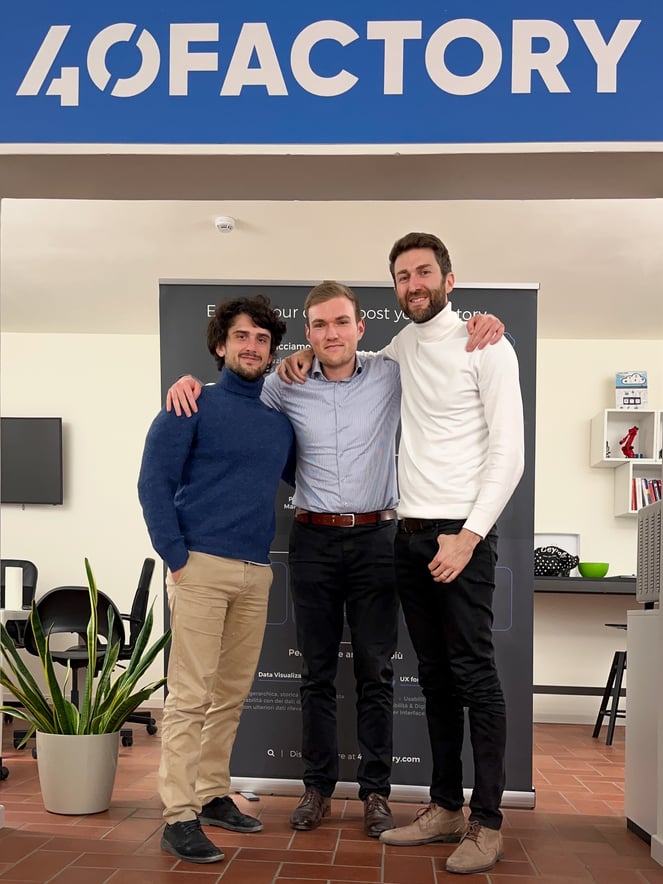 Filippo Ghelfi (left), CTO, 40Factory Srl, Tobias Muehlnikel (center), CTO and CPO Edge Business Unit at Portainer.io, Marco Bressanello (right), Business Developer & Strategic Innovation Consulting Manager, 40Factory Srl.
About Portainer.io
Portainer is a universal container and device management platform to deploy, configure, troubleshoot, and secure applications across Industrial IoT, Smart Manufacturing, Network Edge, and Internet of Things use cases. With over 3.4 billion downloads and over 650,000 active users, Portainer is trusted by customers across various industries, including manufacturing, food and beverage, energy, automotive, healthcare, medical technology, and information technology, to simplify the adoption of containers securely with exceptional speed.
For more information, visit https://www.portainer.io/edge-iiot-iot-device-management
About 40FACTORY
40Factory is a Solution provider Leader in IIoT solutions for OEM and End Users. It proposes a SaaS solution designed with the best available technology coupled with services to help their customer to take the highest value and monetize digital services from the beginning of the project. With a young team, an innovative approach to the market, and breakthrough technology 40Factory will revolutionize the industrial scenario. https://www.40-factory.com
For Press Inquiries, Please Contact:
Diane Hannay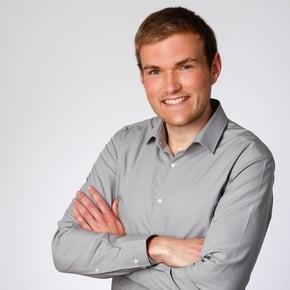 Tobias Mühlnikel
Tobias is an advocate of digital transformation and currently leading Portainer.io's Edge Business Unit that covers the Industrial IoT (IIoT) and IoT business. Having a strong background in the automotive industry with its future-oriented industrial digitization projects, he has managed, among others, projects on AI-based predictive maintenance processes, shopfloor connectivity & data asset management since 2014. Now, as a CPO & CTO of Portainer.io's Edge Business Unit, he is positioning the software product Portainer as an essential infrastructural part of IIoT projects.