Unleash the power of containers at the Edge
Manage Docker and Kubernetes at the Edge in an easy and secure manner.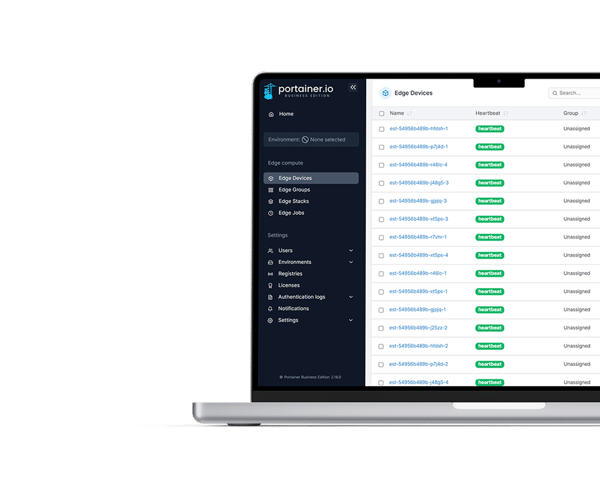 Why Portainer for Edge?
With more than 650.000 active users and more than 3.4 billion image pulls, Portainer is well-known in various Operational Technology (OT) and IT sectors. Portainer provides Edge specific features to support both container management and device management in Industrial IoT (IIoT) and IoT use cases as well as for regional data centers (Network Edge).
As organisations look to move the collection and processing of data closer to the point of data creation, there becomes a need to manage compute devices at a scale that dwarfs that of traditional data center systems. How can remote compute devices be maintained, updated, and the software stacks deployed, updated, and triaged, when you have many thousands under your control? The answer is with edge management, and managing devices in bulk.
Portainer is a toolset that allows many thousands of remote container hosts to be centrally managed from a single self-hosted instance of Portainer.
It is important to mention that Portainer won't lead to a vendor lock-in when realizing cloud projects because of being runtime and orchestrator agnostic at the Edge – supporting Docker, Swarm, and Kubernetes. Therefore, Portainer preserves its customer's independence of cloud providers. Of course, non-cloud projects can be implemented using Portainer as well.
Watch our Edge Demo
Watch a full end-to-end demo of Portainer managing Edge devices at scale.
Speed
Avoid spending time on recurring tasks
One-Touch Onboarding to integrate a large number of new Edge Devices into your existing IT Infrastructure using simple scripts or FIDO Device Onboard.
Easily deploy and update applications at large scale using groups of Edge Devices.
Watch the demo video for examples of one-touch onboarding and bulk deployment and update of applications.
Simplicity
Reduce the staff skill level needed for Edge projects
Portainer's well-designed UI empowers non-IT experts to complete expert tasks in their day-to-day business. Portainer also works for OT engineers to successfully manage container-based application deployments in industry.
Straightforward deployment of Portainer's lightweight Edge Agent that can run on Edge Device with few hardware resources.
Portainer's support for Intel AMT and FDO ensures that devices can be supported and bought online, regardless of their location.
IT Security
Accept no compromises when it comes to security
IT Security is crucial for the transition between the OT and IT networks. We help the OT engineers to understand what they are doing.
Supporting common characteristics of OT & IT networks, like air-gapped environments, segregation of OT and IT networks, secure connections across the internet, even across unreliable networks.
Secure settings by default enable less experienced users to stay protected when managing their environments.
"We see an increasing number of customers who need to operate machine connectivity efficiently as a component of larger Industrial IoT solutions. Softing's containerized connectivity products and Portainer make machine connectivity easy to use and easy to scale in production environments - an ideal combination for many organizations and users at the interface between IT and OT."

"Our OPC Router is a no-code software for connecting cloud, ERP systems, databases and devices that have been proven in the industry for almost 20 years. With Portainer's similar no-code approach, the use cases of the OPC Router are easily orchestrated and rolled out across the enterprise with just a few "clicks". Therefore, Docker container management by Portainer is a perfect match."

"Portainer has an excellent container management platform with Industry 4.0 specific features. Easy-to-use, the platform allows to securely deploy and manage MES on the customer's infrastructure without requiring extensive IT knowledge. Our partnership is an ideal opportunity to provide new and existing customers with a containerized MES across a variety of industries."

"The benefits of partnering with Portainer were evident to our team very quickly. LiveSwitch involves a number of complex systems that have to scale up and down dynamically, at extreme scale, with massive throughput and a tremendously low tolerance for any sort of latency. This complexity lends itself well to a powerful container management platform such as Portainer."

Portainer gives us the flexibility to work with different software tools using the same UI and API. Especially the API provides us new opportunities as a software vendor and as a system integrator in the digital transformation market. Portainer is available from the edge to the cloud without any vendor lock-in. Thanks to the whole Portainer-Team to save us a lot of time and work!

Key Edge Features
Portainer provides all the features you need to manage and secure your Edge environment.
Async Agent Mode
mTLS for Edge Agent Comms
Bulk Device Onboarding
Device Waiting Room (pre-stage)
Private Registries at Edge
Pass-Through Host ENV Variables
ARM32 Support
Discover our three Edge use cases
TOUCH
Industrial IOT
Smart Manufacturing
TOUCH
Internet of Things
Smart Buildings and Smart Cities
TOUCH
Network Edge
Own software stacks in regional data center
Edge
Frequently Asked Questions
Answers to common questions we get about Portainer and Edge deployments.
Which Edge Devices can be used for Portainer's Agent?
Portainer's Agent is very lightweight and only uses about 10 MB of RAM. That's why it runs also on Edge Devices with limited hardware resources.
The supported architectures and the compatible and required Docker or Kubernetes versions can be found at: https://docs.portainer.io/start/requirements-and-prerequisites.
Kubernetes is only needed if you want to manage your Kubernetes cluster via Portainer.
Can you recommend a company for purchasing Edge devices?
We recommend you use Edge Devices on which Docker is already pre-installed. Our IoT partner Wago offers these devices. For further information please read Portainer partners with Wago.
Portainer Blog
Latest Edge News
Read the latest Edge news and articles from Portainer and our partners.
Interested in using Portainer for your next Edge project?
Contact our Sales team and find out about our transparent license model. It's based on the number of nodes and there is no traffic-based billing.