Kiwi open source startup receives significant international backing.
Auckland, New Zealand, August, 18, 2020 -- NZ based software company, Portainer.io, today announced it has closed a US$1.2 million seed financing round. The round is backed by leading strategic investors Bessemer Venture Partners and Black Nova Group, as well as top New Zealand investors K1W1, AmpliPHI Ventures and a number of experienced senior business figures.
Portainer launched in 2017 as an open source product to radically simplify the deployment and management of Docker Swarm container-based environments. To date, Portainer has been downloaded more than two billion times and is actively used by approximately 500,000 users per month.
Enjoying 50% year-on-year growth, Portainer is poised to launch Version 2.0 including an advanced open source product and commercial business edition for Docker Swarm, Kubernetes and Edge computing. According to Portainer.io CEO and Co-Founder, Neil Cresswell, Portainer was developed to bring expert simplicity to the complex technologies in use by everyday IT teams;
"Extending Portainer to manage Kubernetes will enable organizations of any size to take advantage of the rich functionality without having to learn Kubernetes itself," he says. "It quite literally makes an incredibly complex environment available to the average IT team, unleashing an immense advantage to teams using Portainer to deploy into Kubernetes or troubleshoot issues across its environments."
The seed round enables Portainer to accelerate the growth of its open source version in the Kubernetes space, as well as bringing a fully supported business edition to market. Funding will be allocated to additional software engineering resources around the world, growing the Kubernetes community uptake and building traction for the commercial product.
"We have been watching the explosive growth of Portainer for some time" says Bessemer partner Michael Droesch. "We have been encouraged by what the team has achieved with their open source product and the engagement they have generated within the Portainer community. We believe Portainer can help bring 'expert simplicity' to leading cloud-native technologies like Docker and Kubernetes"
"We are looking forward to seeing Portainer.io accelerate its commercialization strategy" says Black Nova Group's Managing Partner, Matt Browne, "Portainer's development of a container management platform is helping software engineers and developers navigate through a rapidly growing market gap, as B2B SaaS increases in the current ever-changing market conditions".
About Bessemer Venture Partners
Bessemer Venture Partners is the world's most experienced early-stage venture capital firm. With a portfolio of more than 200 companies, Bessemer helps visionary entrepreneurs lay strong foundations to create companies that matter, and supports them through every stage of their growth. The firm has backed more than 120 IPOs, including Pinterest, Shopify, Yelp, LinkedIn, Skype, LifeLock, Twilio, PagerDuty, SendGrid, DocuSign, Wix, and MindBody. Bessemer's 15 investing partners operate from offices in Silicon Valley, San Francisco, New York City, Boston, Israel, and India. Follow @BessemerVP and learn more at bvp.com.
About Black Nova
Black Nova Group exists to empower the next generation of iconic, tech startups. We inject capital and services into businesses looking to scale. We operate in Australia and Europe and are united by one goal; supporting great founders with ambitious dreams to achieve their potential. www.blacknova.xyz
About AmpliPHI Ventures
AmpliPHI Ventures is an Auckland based investment management firm, focused on providing investors access to the best private market opportunities in New Zealand. AmpliPHI's founders have managed private equity and venture capital programs for leading local and regional institutional investors, investing alongside talented founders and partners in some of the biggest success stories to emerge from New Zealand. www.ampliphi.vc
---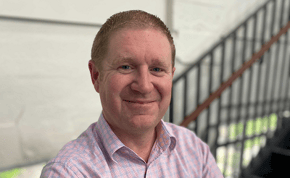 Neil Cresswell, CEO
Neil brings more than twenty years' experience in advanced technology including virtualization, storage and containerization.