Auckland, New Zealand, December 14, 2022 – Portainer.io announced today that they have signed a strategic partnership with LiveSwitch, the critical video infrastructure provider that powers real-time communications experiences on the web.
The partnership enables Portainer and LiveSwitch to better serve clients who are building and managing cloud native applications that include interactive real-time video streaming.
Through the partnership, Portainer clients can seamlessly leverage LiveSwitch's live video streaming infrastructure, built on WebRTC, to embed high-quality, ultra-low latency interactive video, audio, and data into their applications.
"The benefits of partnering with Portainer were evident to our team very quickly," said LiveSwitch CEO and Co-Founder Jerod Venema. "LiveSwitch involves a number of complex systems that have to scale up and down dynamically, at extreme scale, with massive throughput and a tremendously low tolerance for any sort of latency. This complexity lends itself well to a powerful container management platform such as Portainer," Venema added.
The recent and significant increases in both the number of applications that include live video and the demand for low-code and no-code ways to manage software applications led to opportunities and synergies between the organizations.
"Software containers are a key driver of digital transformation," said Tobias Mühlnikel, CPO & CTO of Portainer's Edge Business Unit. "After getting to know LiveSwitch's innovative live video streaming infrastructure that relies on software containers, the synergies were quickly identified. Portainer as an easy-to-use and secure container management platform enables LiveSwitch to scale, no matter if the customer would like to have its infrastructure on-premise or cloud-based."
LiveSwitch powers some of the largest video experiences on the web for companies like Adobe and Deutsche Telekom. It also recently signed a partnership with Akamai to provide WebRTC capabilities for Akamai cloud computing based on Linode.
About LiveSwitch
LiveSwitch provides critical video infrastructure that powers the most engaging and interactive real-time communications experiences on the web. This is achieved through LiveSwitch's reliable enterprise-grade live video streaming platform that enables businesses to embed flexible, secure, scalable, and high-quality interactive video, audio, and data on nearly any device with ultra-low latency. Visit liveswitch.io to learn more.
About Portainer.io
Portainer.io is unleashing the potential of containers with its universal container management platform. The New Zealand-based company was born in 2017 from founders Neil Cresswell and Anthony Lapenna's own struggle to learn Docker, with the vision to create a GUI-based tool to manage Docker without frustration - regardless of whether it was deployed standalone, in a cluster, on-premise, at the edge or in the cloud. In recent years, Portainer expanded to include support for Kubernetes and Nomad as well as retaining full support for Docker & Swarm. Portainer currently has over 600,000 global monthly users and 23.8K GitHub stars. Portainer now works with Fortune 500 companies across the globe to help ease the complexity of container adoption and management.
For Press Inquiries Please Contact:
Diane Hannay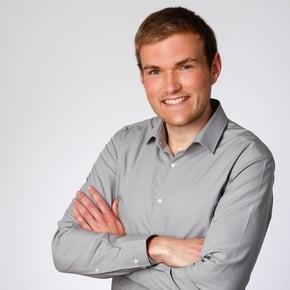 Tobias Mühlnikel
Tobias is an advocate of digital transformation and currently leading Portainer.io's Edge Business Unit that covers the Industrial IoT (IIoT) and IoT business. Having a strong background in the automotive industry with its future-oriented industrial digitization projects, he has managed, among others, projects on AI-based predictive maintenance processes, shopfloor connectivity & data asset management since 2014. Now, as a CPO & CTO of Portainer.io's Edge Business Unit, he is positioning the software product Portainer as an essential infrastructural part of IIoT projects.