Our Portainer extension products have been unavailable for purchase since September 2020 when we included them, (along with enhanced functionality), in our actively supported codebase: Portainer Business.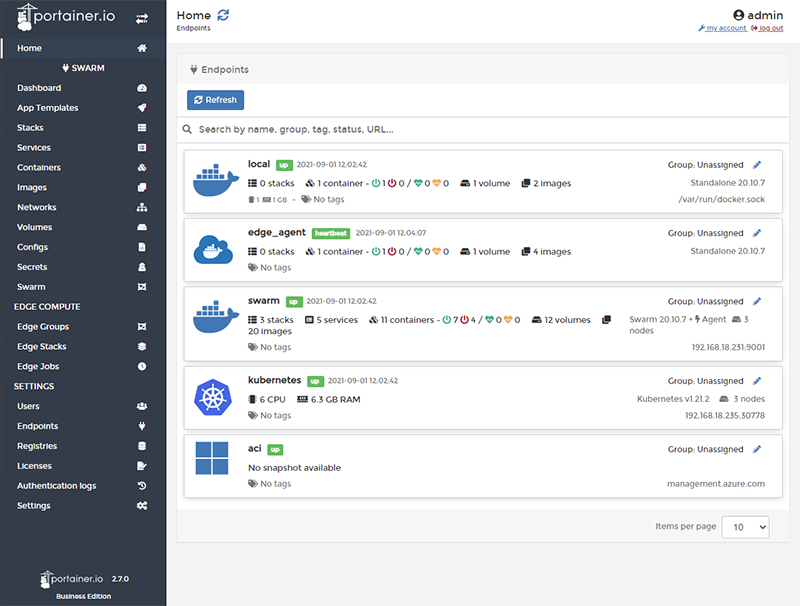 The 1.24.x extensions products will complete the end-of-life (EOL) process on December 31, 2021 (see note below). If you want to continue using Portainer you need to get in touch with us.
You can access the complete range of functionality by upgrading to Portainer Business, and we have a Special Pricing Offer available to our Extensions Customers if you purchase before November 30, 2021.
Why transition to Portainer Business?
We have made many significant improvements to the product since extensions were available, as well as many fixes based on direct feedback from our community.
Portainer Business now enables:
Ability to download a full backup of settings and restore Portainer even across disparate implementations - In Portainer, you configure the settings of your endpoints and image registries, as well as defining all the access control. This is not something that you want to lose when you lose your volume. Portainer Business now allows the user to download a full backup of the Portainer settings, and makes it easy to restore Portainer. This can also be used when moving the Portainer instance from one environment to another environment. And not only is it possible to download a backup, it's now easy to setup a schedule where Portainer periodically gets backed up to S3. So you can always restore to an older configuration of your Portainer instance.
New Operator role, with ability to make day-to-day operations easier without additional risk - We already had read-only/helpdesk users that could see the content in Portainer to assist in trouble-shooting. Now, the Operator role enables you to do more than that. Operators can restart applications and open shells into existing applications. This makes day-to-day operations easier without any additional risk. Operators cannot add new content, change existing applications or delete anything.
Track all users activities with Auditing - You can trace all, create/update and delete activity back to who was responsible for it and when it occurred. You can also examine who accessed Portainer or who is maliciously trying to get access.
Ability to setup multiple, private DockerHub registries for greater security - We allow you to have multiple, private, DockerHub registries, hosting different images, and governed by different access tokens. You can even configure which endpoints have access to which registries. This can be useful when ensuring that qa/dev/prod environments only have access to qa/dev/prod images that reside in different DockerHub registries.
Ability to store deployment definition for stacks in Git to reduce mistakes and increase visibility of deployment history - In order to cater for reliable deployments, you can use a GitOps workflow, where the deployment definition is maintained in Git. This reduces the chance of manual mistakes, increases visibility of the deployment history and caters for reviews through pull requests. A base definition of the deployment can be expanded with specific configuration catering for the different environments (e.g. dev/qa/prod). Any changes made in the Git repository can automatically be picked up and deployed by Portainer.
Sync OAuth groups with Portainer teams - When there are a large number of Portainer users, access is normally governed by defining different teams and the access that they have. Maintaining which users belong to which teams can be a tedious and ongoing task. This can be automated by synchronizing the teams in Portainer with group memberships in OAuth, which for instance can be derived from Active Directory. When a user logs into Portainer, OAuth will provide the group membership information and Portainer will automatically update the teams that user belongs to.
See how much disk a container is reading or writing with I/O usage - Allows the user to see how much disk a container is reading/writing.
Ability to change UI to dark mode - Changes the UI to dark mode or high contrast mode to assist with visibility.
Portainer Business also offers full Kubernetes support - Many of our customers have found that while they don't need this right away, it's very useful for their future plans. Portainer Business allows both the migration of existing workloads and the management of new workloads into a Kubernetes environment.
Supported and active codebase - One of the most important reasons to upgrade is that you'll be moving to a supported and active codebase, with active security updates.
How much will Portainer Business cost if I purchase before November 30, 2021?
We are offering all of our Extensions customers the chance to move to Portainer Business at special, discounted pricing. If you'd like to find out more then please contact us requesting pricing for your organization (contact form available below).
If you have a small environment, you can also sign up for 5 free Portainer Business nodes.
What does End of Life for 1.24.x and Extensions products mean?
The 1.24.x image will be permanently removed from DockerHub therefore if the original image is required (ever), it will need to have been locally stored by the user prior to that date.
Any and all effort to update or maintain the code base by the Portainer Team will cease. This includes the addressing of any new security vulnerabilities identified by the community.
The source code will be archived in GitHub.
Contact us to find out more
If you'd like us to find out more, please leave your details and we'll contact you as soon as possible. Extensions Customers - Contact Us.