Deploy and manage Nomad jobs
Deploy your applications to thousands of clusters simultaneously with a single job file.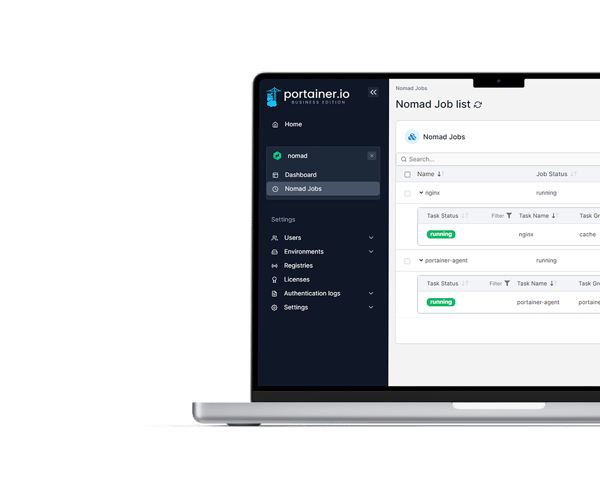 Portainer and HashiCorp's Nomad
Nomad is a lightweight, flexible, workload scheduler that enables organizations to easily deploy and manage containerized or legacy applications using a single, unified workflow.
Portainer gives users a simple way to centrally deploy and manage their Nomad jobs across any number of clusters in any locations, without the need for centralized Nomad instances.
TOUCH
Consume fewer resources
Nomad needs fewer resources to run and is completely self-contained, supporting a large range of hardware including ARM devices.
TOUCH
Orchestrate with Nomad
Nomad is simply an orchestrator, and any running container has access to the full functionality of the Docker engine underneath.
TOUCH
Deploy to thousands
With Portainer you can deploy your stacks to any number of Nomad clusters simultaneously, with a single job.
TOUCH
Manage distributed clusters
Manage distributed clusters
From one Portainer interface, easily manage all your distributed clusters, applications and groups of apps.
TOUCH
Use alongside your existing environments
Use alongside your existing environments
Manage your Nomad environments alongside your Docker, Swarm and Kube environments with one interface for all.
TOUCH
Troubleshoot your jobs
With Portainer you can see a full view of your app deployment on your Nomad environments and troubleshoot any issues that occur.
Key Nomad Features
Portainer provides all the features you need to manage and secure your Nomad environment.
Nomad Orchestrator Support
ARM32 Support
Registry Management
Update Stacks
Portainer Blog
Latest Nomad News
Read the latest Nomad news and articles from Portainer and our advocates.
Talk to us about your Nomad project
We're here to answer your questions on how Portainer can speed up your Nomad adoption.